Ankai 600 Buses Export to Saudi Arabia Departure Ceremony
Views:19 Author:William Yan Publish Time: 2019-04-11 Origin:Site
In 2019, the largest order of Chinese passenger bus officially started today, and the export products are still from Ankai!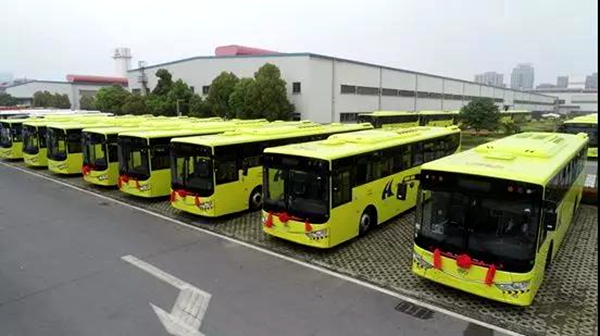 On April 10th, the "600 Ankai Buses Exit Saudi Departure Ceremony" was held in the Ankai factory. So far, the honorary title of "The First big order of China Bus Annual export" has been get by Ankai bus for three consecutive years. They have also become a positive practitioner of the "Belt and Road Initiative" and a model for "Made in China" to go global.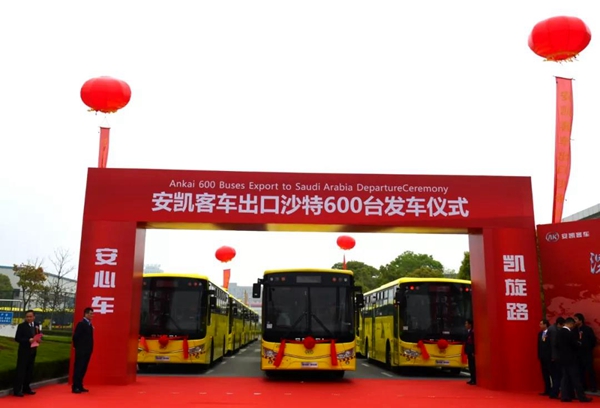 Ankai has Exported 2,000 vehicles to Saudi Arabia for three consecutive years, and they have the largest market holdings on local market. As an important country along the"Belt and Road", Saudi Arabia has been hailed as the "golden market" for China's automobile exports. As the pioneer of "going out" for Chinese buses, Ankai has begun to deploy the Saudi market as early as 2007 and explores it continuously. Understand and respect the actual needs of local users. In 2011, Ankai cooperated with Saudi Arabia's largest transportation company, Saudi Hafir Transportation Company, to export 3,000 school buses in batches, creating the "China's largest school bus export list" and also becoming the largest order of Chinese bus export that year.
Since then, Ankai has been adhering to its existing advantages to further consolidate the Saudi market and continuously enhance the influence of its products and brands with quality passenger bus and comprehensive after-sales services. In 2017 and 2018, 600 and 800 Ankai A9 high-end buses were exported to Saudi Arabia, and the high-standard buses on behalf of "Made in China" once again surprised the international market. Today, 600 Ankai buses have once again sailed to Saudi Arabia. Since then, Ankai has exported 2,000 passenger bus to Saudi Arabia for three consecutive years, becoming an outstanding representative of the Chinese bus to the "Belt and Road" countries.
At present, Ankai Bus has exported nearly 7,000 passenger buses to the Saudi market, becoming the largest passenger car brand in Saudi Arabia. Its products are all covering the school bus, bus and service tourism and the high-end passenger vehicles in the Saudi pilgrimage market, and become the absolute main force in the field of Saudi public transportation. With the brand awareness in the entire Saudi region expanding, Ankai Bus has gradually expanded its market in the Middle East, Africa and other regions, established cooperative relationships with local quality partners, and strived to build a comprehensive service system to provide users with a full range of services.