Yutong won 8 awards in the national new energy bus performance evaluation competition
Views:18 Author:Site Editor Publish Time: 2018-12-25 Origin:Site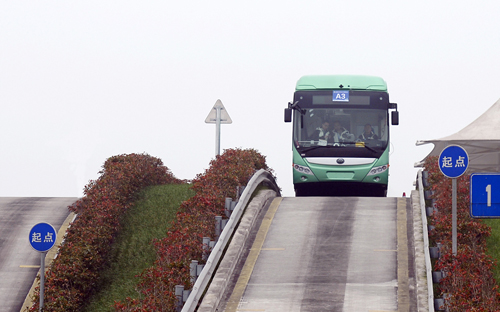 Solstice on November 29, the first national new energy bus performance evaluation competition was held in chongqing on December 1.
The competition attracted a total of 11 domestic mainstream bus enterprises 16 models to participate in the competition.
Yutong sent ZK6105BEVG59 and ZK6125BEVG59E two products, in the "energy saving", "driving range", "power" and "comprehensive performance", with excellent results won all eight awards, including five single first, two comprehensive first, and won the competition two series of the only "all-around award", achieve grand slam.
It is understood that the competition is under the guidance of the department of transport services of the ministry of transport, jointly hosted by the scientific research institute of the ministry of transport, bus branch of China highway society, urban passenger transport branch of China road transport association, national bus quality supervision and inspection center and other authoritative institutions.
It aims to promote the technological progress and high-quality development of new energy buses, improve the promotion and application effect, and show the latest technology level to the industry, and recommend excellent products more in line with the needs of public transport.
The competition is divided into "10-11m group" and "11-12m group" two groups, each set up an all-around prize and energy saving, driving range and power performance of 3 individual performance awards, a total of 8 awards.
Combined with the practical application scenarios of new energy vehicles in the public transport industry, the competition covers most working conditions of urban buses, such as multiple acceleration, uniform speed of different speeds, different deceleration and deceleration, stopping and starting, accelerating uphill and noise testing.
The participating vehicles are required to complete 12 complete cycle conditions, including 3 slope climbing tests, with a total journey of about 55 km on the track of chongqing motor vehicle intensive inspection test site. They are subject to open, fair, professional and strict test and evaluation.
Yutong ZK6105BEVG59 and ZK6125BEVG59E, two pure electric buses, respectively participated in the "10-11m group" and "11-12m group" two series of all competitions.
After fierce competition, yutong's products won all eight awards with excellent results, including the first prize in five individual events and the first prize in two comprehensive events, and won the only "all-around award" in the two series of this competition, realizing the grand slam.
On December 1, under the witness of more than 200 representatives of public transport enterprises from all over the country, leaders of the transport service department of the ministry of communications presented awards to yutong and expressed full recognition of its achievements.
Through this competition, yutong has demonstrated its comprehensive strength to customers and the whole society with excellent product performance on the evaluation platform of fair, open, professional and close to customer usage scenarios of the ministry of communications, which adds luster and luster to yutong brand.